Six Senses has unearthed an exceptional location for its resort in Oman, in an almost lunar landscape where the Hajar mountains tumble into the crystal-clear bay of Zighy. You'll get there by 4×4 across the stony desert, and sleep in ultra-comfortable, traditional-style villas with swimming pools. Here, sport and well-being take on a whole new dimension, combining adventure with gentle treatments to restore balance, with tailor-made wellness programs.
An extraordinary destination
Rocky desert, spectacular fjords and turquoise seas form the magical backdrop to Six Senses Zighy Bay. It is located in Oman, at the tip of the Musandam peninsula, on the Indian Ocean side. From Dubai, it's a two-hour drive by freeway across the desert. Alternatively, you can reach the hotel by boat from the port of Dibba.
The hotel stretches along a long sandy beach, with palm-shaded streets. It feels like a small village in the country. On foot or by bike, stroll through the resort streets to reach the fabulous spa, the immense bay beach or the traditional Spice Market restaurant.
Staying at Six Senses Zighy Bay means the privilege of being almost alone in the world. This extraordinary peninsula offers an exceptional setting for hiking, paragliding, water-skiing and diving in the Hajar Mountains.
Stay on land or sea
The resort's luxurious accommodations are self-contained Omani-inspired villas made of wood and stone, with high, traditional beamed ceilings and terracotta bathtubs.
Their construction preserves coolness, in contrast to the high temperatures outside. They all feature a sublime private swimming pool with sheltered deckchairs and a dining area. Some overlook the beach, with sensational views of the golf course. The largest villas have the privilege of a wine cellar, pool table and home cinema.
Or why not enjoy a 3-day cruise aboard a Dhahab? Sail on this traditional Arabian sailboat, with a crew of 5 on board and all the luxury standards of Six Senses…
A complete and attractive wellness area
Six Senses' well-established wellness philosophy is tooffer all the space and expertise needed for everyone to find their own balance. Our treatments and wellness stays are built around four dimensions: cutting-edge technology, nutrition, body movement and mindfulness.
The spa's beauty and ambience are an instant invitation to surrender to the expert hands of our therapists. Two traditional Arabian hammams, central to the spa's treatments, sit alongside nine treatment rooms and a sauna with ice cellar. According to the traditions of the country, men and women each have their own space.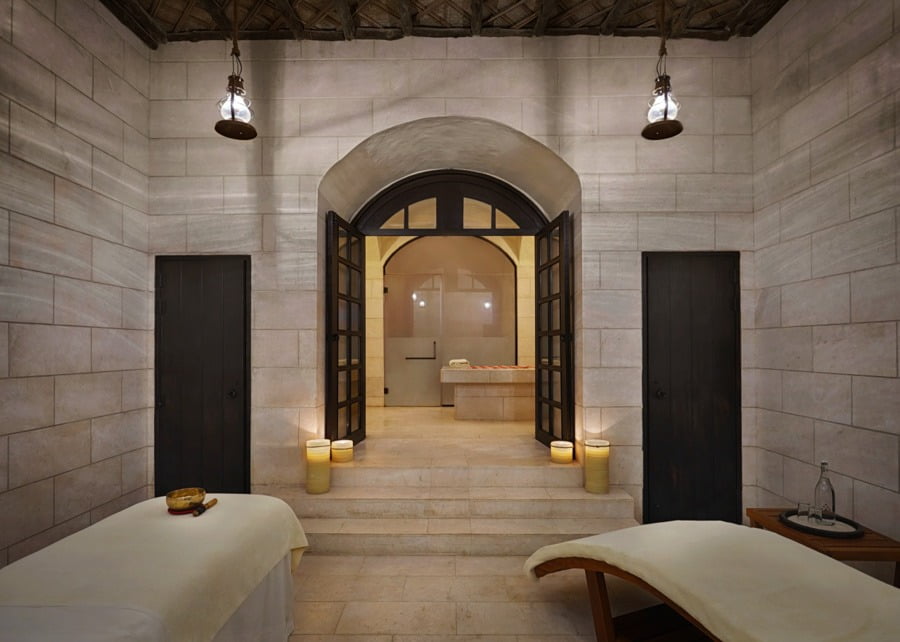 In addition to these wellness facilities, the hotel also boasts a superb seawater pool and a yoga pavilion. Every morning, at sunrise, we meet to greet him with a hatha or vinyasa session. Other sports can be practiced in the fitness center or outdoors with a sports coach. To discover the natural beauty of this magical place, you can climb the mountainsides, paraglide over the peninsula or explore the underwater world.
Personalized wellness programs
At Six Senses Zighy Bay, you can take advantage of a variety of wellness programs to recharge your body or mind, or both! Boost your immunity, start a detox, improve your sleep or boost your self-esteem are just some of the themes guiding three, five or seven-day stays. Consultations with wellness specialists, using state-of-the-art technology, enable us to assess each individual's needs and personalize activities, including aromatherapy massages, personalized meditations and yoga sessions. Some programs include hammam treatments to take advantage of the benefits of this purifying practice, as in the case of detox.
The resort offers a wide range of immersive experiences. Each in its own way, they bring guests closer to nature and tradition. Like exploring the Hajar Mountains through sport, learning to cook with Arab spices or mixing your own herbal cocktail. The more ecologically aware will take a guided tour of the organic garden to learn about sustainable development practices, or help clean up the beach and turquoise waters to protect the ecosystem.
Spices, a must in traditional cooking
Although located in a desert region,the resort has its own organic garden. Particularly buoyant in winter, it is the preferred source of supply for all three restaurants. In addition, the hotel uses local products from the village of Zighy and the town of Dibba. Drawing inspiration from its region, the hotel serves cuisine flavored with the best of Arabic cuisine. The Spices Market restaurant offers regional barbecue specialities. This is also the place for convivial get-togethers with the chef and his brigade.
The resort's gourmet restaurant, Sense On The Edge, offers refined menus 300 meters above the sea. With flavors from around the world, the chef reinvents Arab cuisine with a modern twist. Sitting in the front row, you don't miss a thing: you can watch the kitchen in action as you prepare your meal.
The Summer House, right next to the pool, has something for everyone. In a relaxed atmosphere, you can treat yourself to a detox juice, a light lunch or a four o'clock treat. Note that the restaurant'smenu includes a wide range of healthy choices.
Book
Benefit from our expertise in wellness stays and contact us for a personalized quote for Six Senses Zighy Bay.
Rates : From around 600 euros per night in low season.
Call us for France: + 33 1 85 73 22 14 or for Switzerland: +41 22 501 75 16 to discuss your holiday plans.